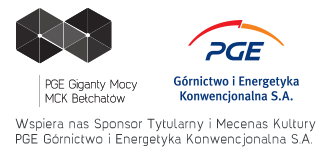 PRACTICAL INFORMATION
You should know that:
✔ Individual tours do not require prior reservation and tickets can be purchased at the ticket office by paying with card or on-line.
✔ Tickets can be purchased at box office with cash or payment card.
✔ Reservation of tickets for organized groups from educational institutions can be made by e-mail: rezerwacje@gigantymocy.pl.
Time of visiting the exhibition:
✔ The tour of the exhibition lasts about 1.5h – 2h.
✔ The next entrances of organized groups are scheduled every 30 minutes.
✔ Visits to the exhibition by individuals take place using audio guides. We ask our visitors to take their own headphones (for those who forgot them, we will lend you ours which are regularly sanitised).
Tourist information
The Tourist Information Centre is located at 15 Kościuszki Street.
In Bełchatów's TIC you can rent phones with uploaded applications – city guides for families with children, history or sports enthusiasts.
In the TIC shop you can buy some souvenirs from your visit in Bełchatów and city&region guides.
Contact number:
+4844/ 733 51 35
For Parents With Children:
✔ Buggies and child bikes can be left at the cloakroom of the exhibition after acquiring the appropriate employee's approval.
✔ At Level 0 of the building, right next to the shop, there is "Klub Woltusia" – a room for parents with children equipped with baby-changing table, a toilet for the youngest and a bottle warmer, as well as toys and books for children. (The room is temporarily unavailable due to epidemic reasons).
✔ At Level 0, just behind the lower foyer, there's a baby changing facilities.
Accessibility:
We strive to make sure that our space is comfortable and accessible regardless of age or mobility. MCK PGE Giganty Mocy is a place friendly for seniors or people with physical disabilities without any architectural barriers.
PGE Giganty Mocy is equipped with lifts to facilitate movement and sightseeing. There's also a handicapped toilet at Level 0 (in the lower foyer) and Level 1 (near the administration offices).
Deaf and hard of hearing guests can visit our museum with audio guides in Polish Sign Language.