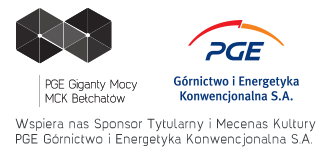 FOR FAMILIES WITH CHILDREN
PGE Giganty Mocy in Bełchatów invites whole families to visit a multimedia exhibition about coal and electricity.
PGE Giganty Mocy is a tourist attraction for families with children, which presents the subject of many fields of science, thanks to which children who play while visiting Exhibition, can acquire knowledge about the formation of brown coal and process of electricity generation, natural sciences and many other interesting scientific aspects. In the halls of PGE Giganty Mocy, learning is combined with fun.
The audio guides will take our guests through the PGE Giganty Mocy Exhibition. They contain two versions of audio tours – one for adults and one for families with children. Thanks to personalized audio and accessible scenarios, even the most difficult issues presented in the Exhibition will become comprehensible to every child.
Visiting PGE Giganty Mocy with an audio guide, the visitors follow clues of narrators – characters living in the Exhibition: Woltuś, Dżulka and prof. Ohm – and perform simple tasks included within the audio guide. With the help of engaging content and tips from the audio tour everyone has fun, practising their divisibility of attention, concentration and memory.
In addition, within the PGE Giganty Mocy functions "Klub Woltusia" – one of the most family-friendly places in Bełchatów with small kids in mind. (The room is temporarily unavailable due to epidemic reasons).
There's more! Children under 3 can visit the PGE Giganty Mocy Exhibition free and families with children have an opportunity to purchase the family ticket at a promotional price.
All the amenities were created so our visitors can have a great time here.